We are now through the first half of 2023 and its safe to say that, in the world of tech, these last six months have been dominated by one thing: Artificial Intelligence (AI). Here at Whereverly, we've used this time to delve into the opportunities this new technology brings to destination marketing and have uncovered a wealth of opportunities available to marketers to help their destinations grow. Keep reading to discover the top ways to incorporate AI into your destination marketing, their limitations, and what you can do to effectively reap the rewards they offer.
Image Generation
Generative AI for images allows you to enter a 'prompt' such as 'A photograph of a group tourists looking at a monument in Italy.', and then almost instantly receive the image you have asked for.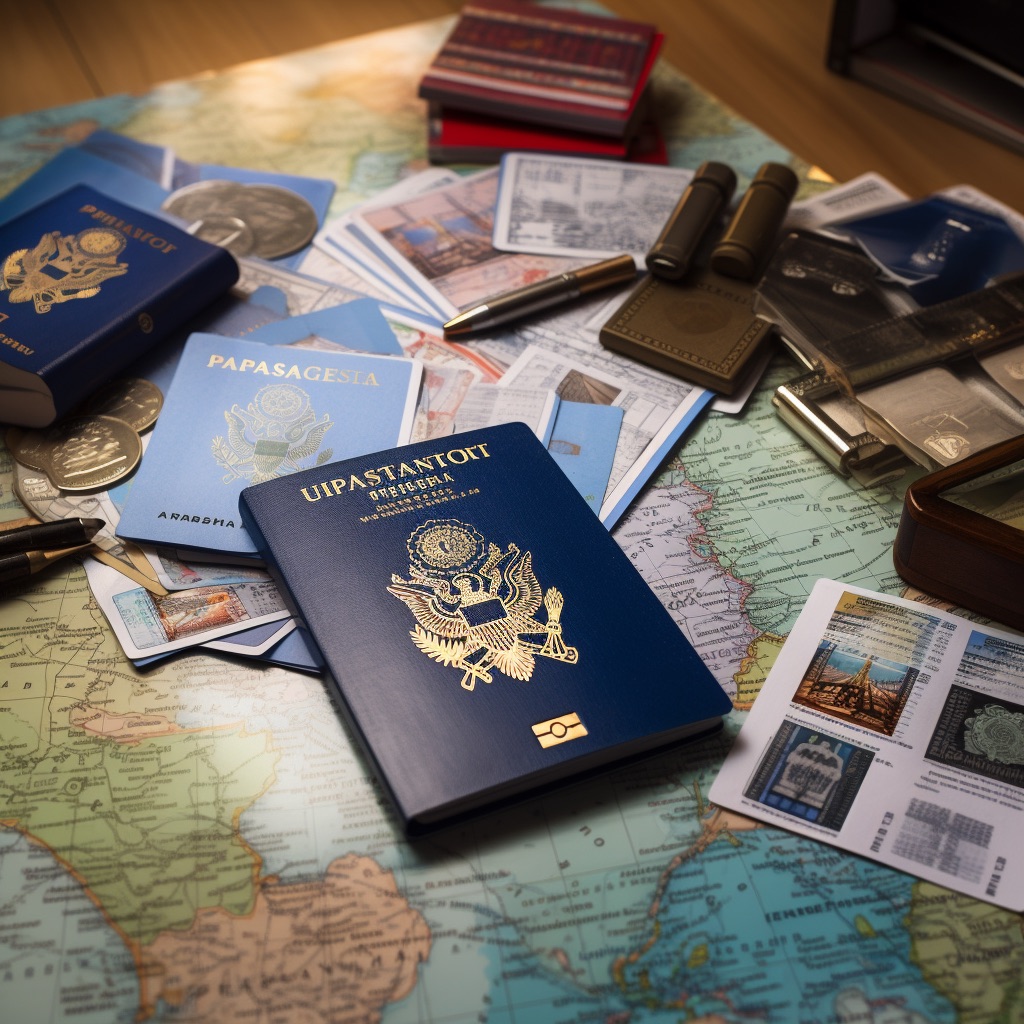 While this technology is very powerful, it can produce questionable results and, from an ethical perspective, runs the risk is misrepresenting your destination. Having said this, generative AI images can still be used positively to promote your destination. Here are our top 3 ways we like to apply them:
Need a quick placeholder? Rather than using a generic stock image, use an AI generative image.
Briefing a photographer or designer? Use AI image generation to give them an idea of what you are looking for or just use it for some inspiration. A picture is worth a thousand words.
Sometimes you just need a stock image where it is not directly marketing the destination. Generic images, such as a photograph of some travel documents, can be easily generated by AI, without running the risk of misrepresenting your destination itself. This header image for this blog post was in fact generated using AI.
We recommend using Midjourney as currently we find it to be the best performing AI image generator, plans start at $10. (https://docs.midjourney.com/docs/plans)
AI Chat Bots
Chat Bots have been around for years, with varying degrees of success. While effective in providing users with simple information, they often fall short in answering more complex questions. AI chatbots are on the rise however and, at the time of writing, we believe them to be the most practical application of AI in the destination marketing space.
AI chatbots outperform traditional chatbots in two distinct ways. The first being from an administrative point of view, and the second being the user's perspective. Where traditional chatbots require administrators to "program" the bot to look for specific questions and then return answers (a laborious process), AI chatbots, through training, have "learnt" how to interpret and answer questions. This dramatically improves the experience of the user, who receive high-level summaries of information from across your website to suit their needs, rather than rigid and often irrelevant answers produced by more traditional chat bots.
In addition to improving user experience and lightening the load for administrators, AI chatbots can also become a fantastic tool to promote the existing information on your website in new, exciting, and most importantly useful ways. With a bit of tweaking, you can get some great results, where a visitor can ask questions such as "What are the best restaurants?", and content from multiple different pages on your website can be combined to give the visitor an easy list of must visit restaurants.
Try it for yourself. Put yourself into the shoes of a visitor or resident of Edinburgh and try out our AI chatbot below. Jamie and Lindsay will be happy to help!
Looking for a chat bot for your website? We'd be happy to give you a hand. Get in touch to see how we can help you with an AI powered chat bot.
Text Generation
Probably the biggest reason for this latest AI craze has been text generation, spearheaded by ChatGPT. For example, you can spin up ChatGPT and ask it to "Write a blog post about Edinburgh Castle for tourists." and you will get something that sounds pretty good and plausible.
AI text generations has its limitations, however, such as:
Lacks your destination's unique tone of voice
Lacks character
Can include false or factually incorrect information
But these drawbacks don't mean it should be ruled out altogether. Rather than using ChatGPT as a direct content generation tool, try using it to provide a first draft. After all, how many times have you sat with a blank piece of paper struggling to get started? The output of ChatGPT can provide you with a first draft that gets the creative juices flowing.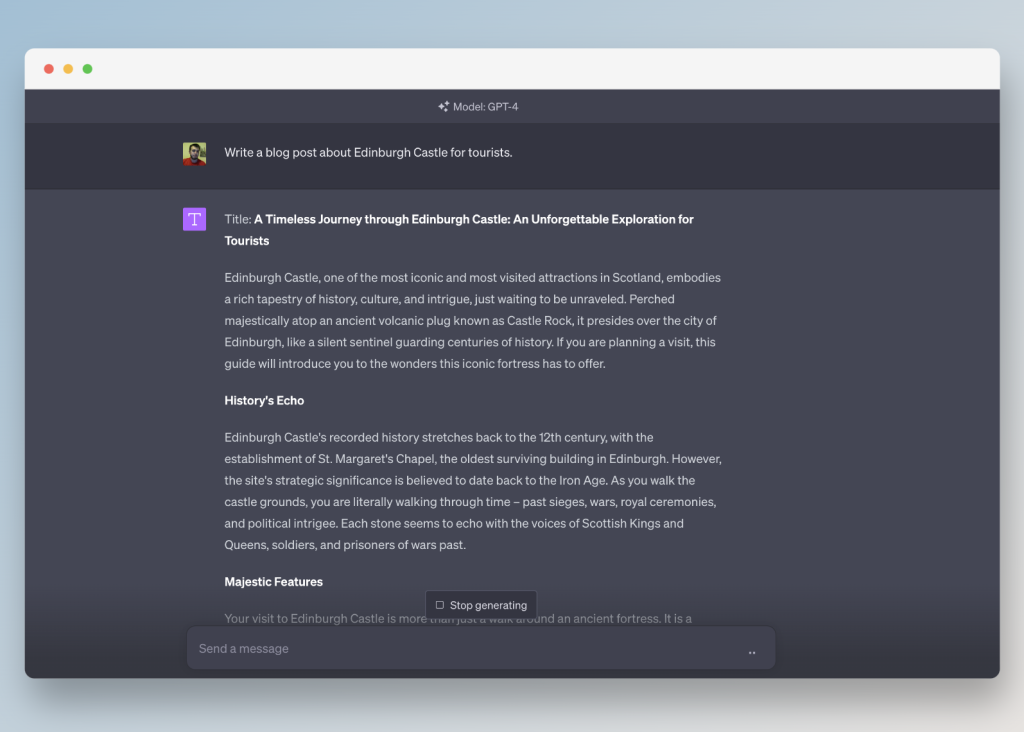 You can try ChatGPT for free by signing up at https://chat.openai.com/. If you find it useful and are using it regularly, we recommend upgrading to ChatGPT Plus, it gives you access to GPT-4 which is the latest model which can produce even better results when compared to the free version.
Transcription
Are you sitting on a gold mine of hidden content? If you have video or audio content, such as Podcasts, then you can use an AI powered transcription service to extract the content into text. This is useful for not only SEO, but also your site's accessibility.
Check out our blog post to learn more about how you can harness the power of transcription to grow your destination's online presence.
Conclusion
In this blog, we have scratched the surface of some of the use cases for AI. Fast moving and ever evolving, these are examples of what you can be doing right now to stay ahead of the crowd. After all, some of the tools we mentioned in this post didn't even exist a year ago. Keep an eye out for more blog posts to keep up to date or get in touch with us directly to learn more.