One of the best things about being a developer is getting to use the products you've helped create out in the wild. From the second we started developing the Scottish Islands Passport app I was counting down the months, days and hours until I had the completed product in my hand, ready to start collecting digital stamps from islands all over Scotland, my beloved home country! Now, after a busy few months, I have finally had time to put pen to paper and document my adventure. So pull up a chair, pour yourself a warm brew and come travel around the islands with me!
During lockdown, I'd come across the Outer Hebridean Way, a walk or cycle through 10 remote islands, with incredible scenery, world class beaches and bays, varied wildlife and unique historical island culture. Inspired, I chose to do the 185-mile cycling route.  
Searching for a proper adventure, I kept pre-planning to a minimum. Firstly, I added all the islands on the route to my favourites in the Scottish Islands Passport app, then downloaded all the content to use offline. I took a note of the ferry times for the four ferries I'd need to catch, and that was it, I was ready to go.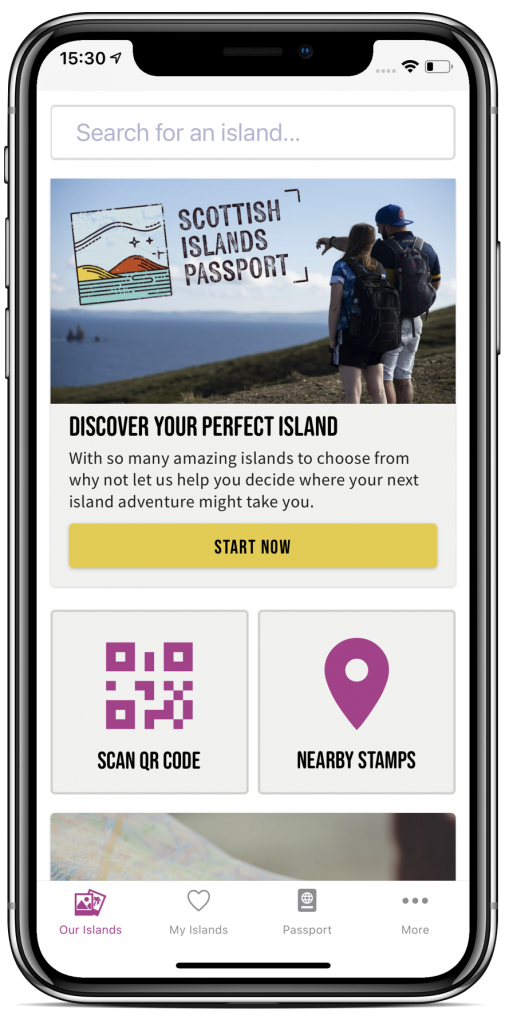 To ensure my safety and comfort, I came well prepared, with clothing to cope with the 4 seasons of weather Scotland can deliver in a day. To ensure I never went hungry I packed a gas stove, pot and pan, water and a load of emergency snacks and meals. I planned to wild camp the majority of the time, so I was equipped with a compact but tough tent, a warm sleeping bag, an inflatable sleeping mat and a proper pillow. Forget minimalist bikepacking, I wanted this to be more of a glamping experience, so I also took my luxury camping chair, coffee grinder, a quality Bluetooth speaker, my trusted AeroPress and a Milk frother – for a Latte fun! 
Saturday – Edinburgh to Oban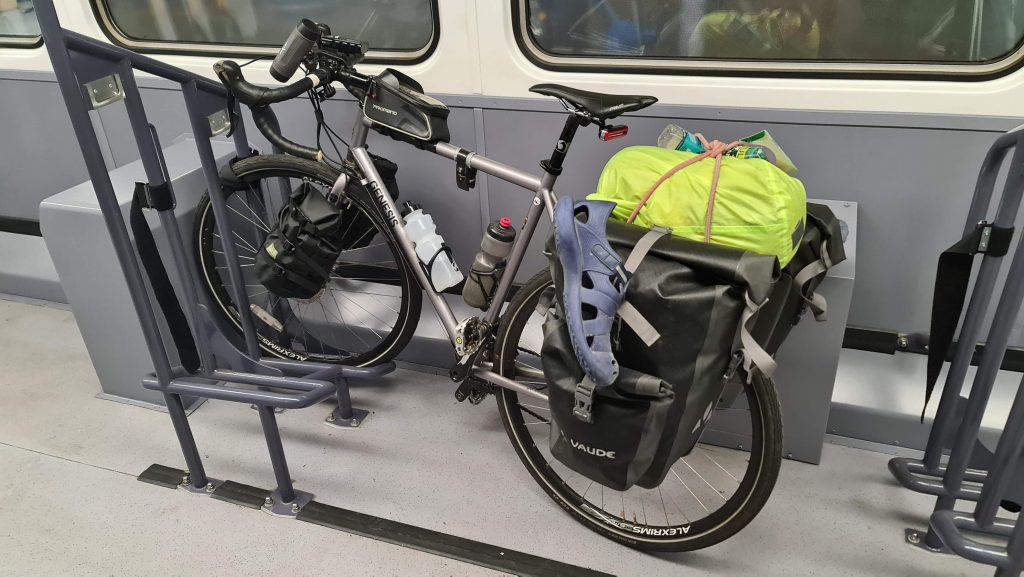 I planned to do as much of the trip as possible using public transport, so I took the train from Edinburgh to Glasgow, then onwards to Oban in the excellent new dedicated bike carriage – a first class experience for cyclists! Arriving in the evening and with my ferry not leaving until after 2pm the next day, fancied a wee night out in Oban before the big trip to chat (and dance) with the locals, so I headed to "The View" – a popular bar with live music and energetic clientele – before getting some much-needed rest for the night.  
Sunday – The Ferry from Oban to Castlebay, Barra (26km)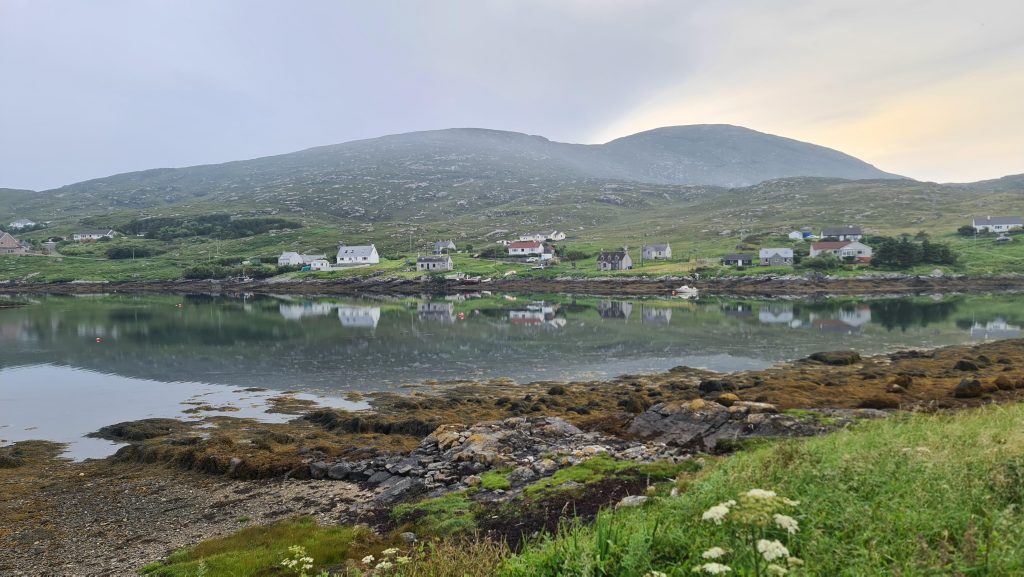 The next day I boarded the ferry, which was so large and luxurious that I felt like I was on a cruise ship! The journey takes over 4 hours, making it impossible for me to resist getting a refreshing cold pint of Tennent's from the bar. It also gave me plenty time to open up the app and research my first few islands. Each island has a list and map of must-see experiences, what each island is famous for, and a wealth of other information. I learned that I might  encounter seals, otters and basking sharks at Vatersay, the official start of the Outer Hebridean Way, and home to spectacular back-to-back beaches. I couldn't wait to cycle there!
On arrival to Barra, it was clear to see why it is called Castlebay – a 15th Century castle sits perched on a tiny rocky island 150 metres from the shore! I was excited to get a push notification shortly after I departed from the ferry, a very significant one, I'd geo unlocked my very first Outer Hebridean stamp for my passport – Barra! No prizes for guessing what was featured on the stamp!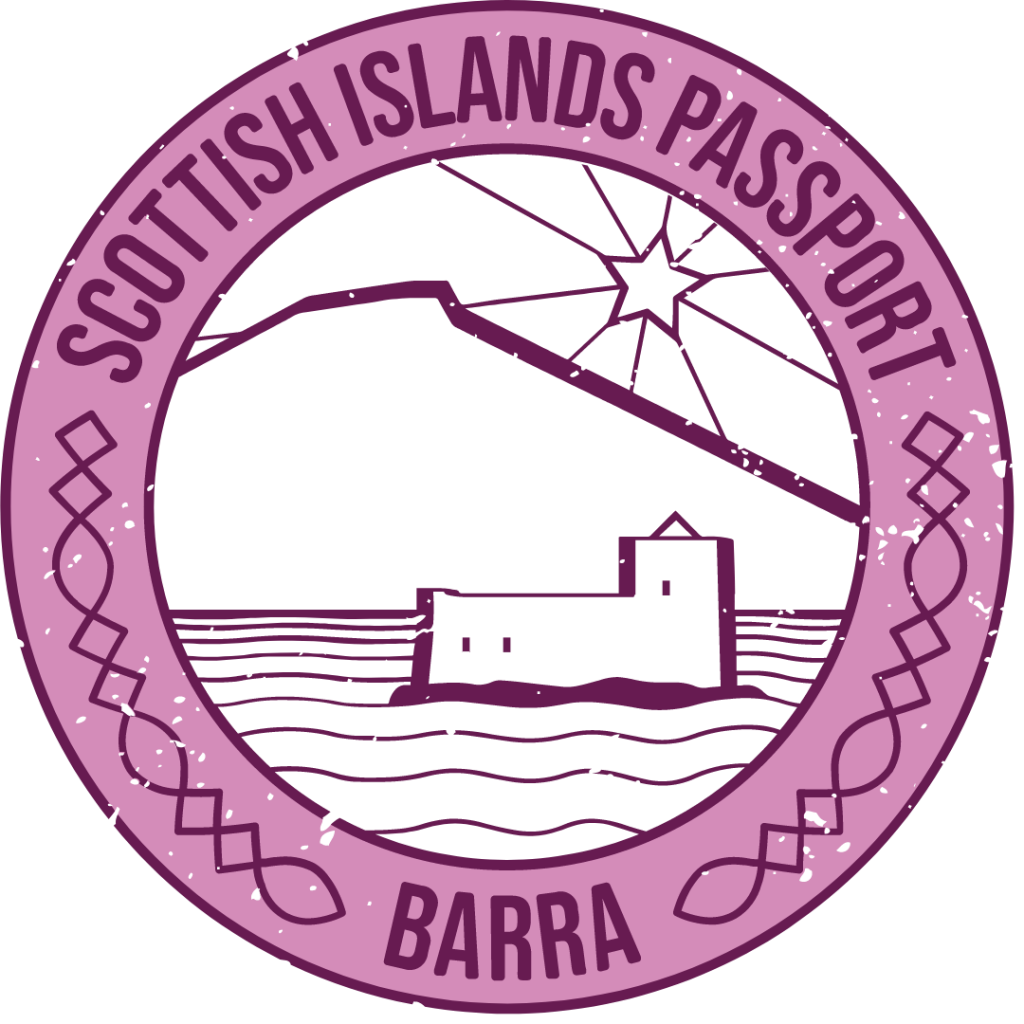 As I'd arrived after 6pm the community shop was shut, so I stocked up in the local Co-op then cycled south to find my tent pitch for the night. I arrived at Vatersay community hall, where a friendly gentleman recommended a camping spot on the more remote side of the beaches, and what a spot it was! I set up tent and offloaded my bike, then cycled back to Castlebay to check out the local bars, before cycling back to wake up to the most amazing view!
Check out my route here: Sunday
Monday, Day 1 of Outer Hebridean Way – Vatersay to South Uist (62 km)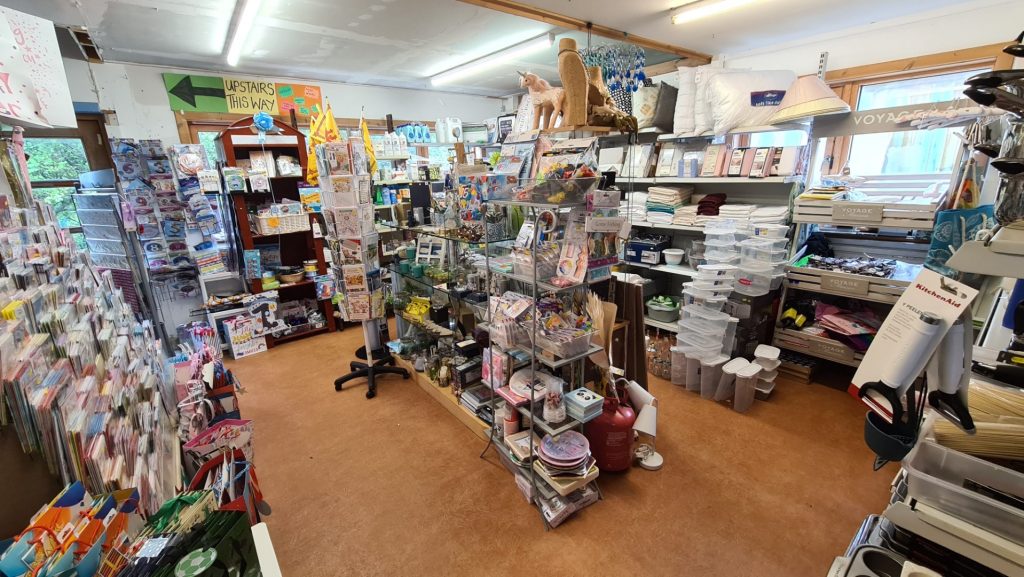 This was the first significant day of the trip. When I awoke The Vatersay community hall café was not open yet, so I ventured north and back to Barra again, to check out the community shop. Here I discovered that a plant-based diet was well catered for and ordered a delicious vegan hot dog and chips (I'm slightly addicted to chips!) I also bought a lion rampant to fly on the back of my bike, I flew it proud to celebrate the fact I was exploring more of my home country and loving every minute of it! 
I'd read in the app about the famous shipwreck that inspired the film "Whisky Galore", so headed to the SS Politician, the only pub on the island, known for containing treasures from the sunken ship! The "Ask an Islander" section, which contains a wealth of local knowledge also informed me that Bonnie Prince Charlie set foot on the island whilst in hiding after the Battle of Culloden! 
The huge advantage of having my tent was that I could venture on for as long as I wanted, and not be held back or rushed by accommodation reservations – I was in charge of my own destiny! (Well, not entirely, I'd booked a boat trip to St. Kilda on the Thursday, so had an important ferry to catch!)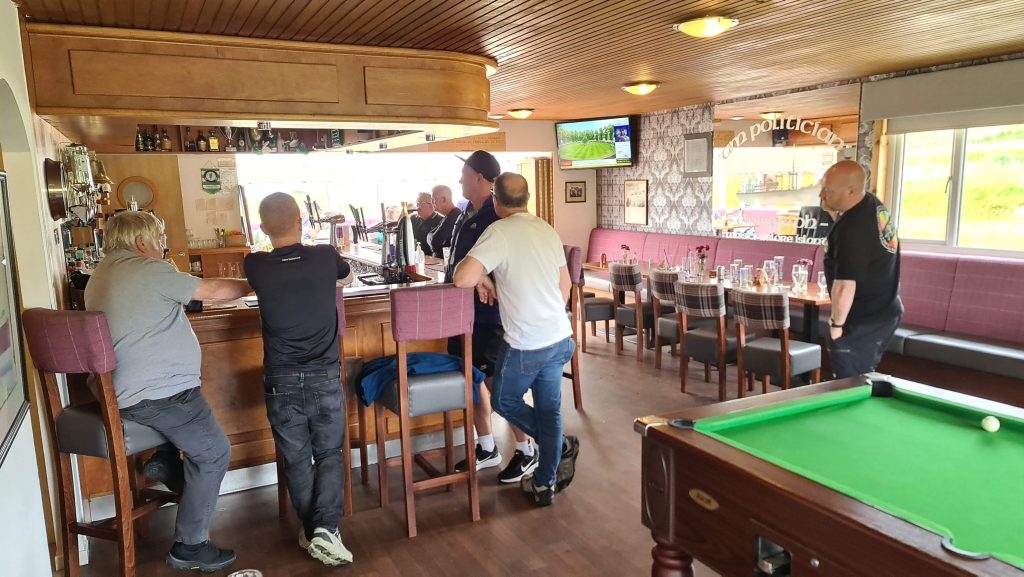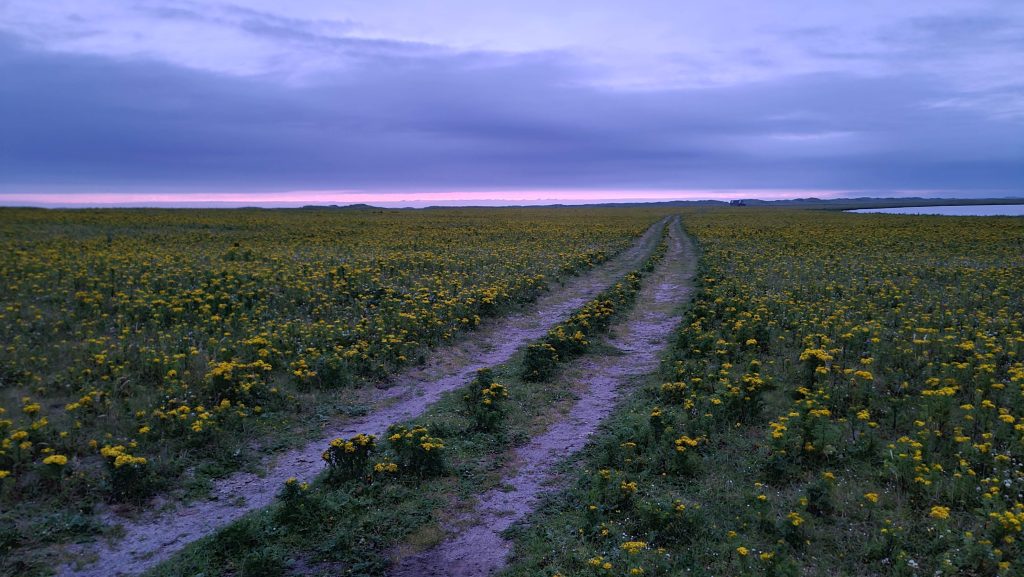 The only requirement I had was being able to find a suitable pitch each night, so that became my mission! Knowing this, I ventured north for as far as my legs could take me, until I came across the Borrodale Hotel, where I treated myself to dinner. It was after 8pm but it was still fairly light, given it was the end of June. My map showed a shortcut to a promising beach spot nearby, little did I know that the "shortcut" had me wading through miles of a road made of sand. My tyres were too narrow to spread my weight efficiently, sinking me deeper into the sand and slowing me down greatly. I occasionally found respite in lumpy grass verges, the lesser of two evils! I eventually reached my destination – at 11pm, weary legged and exhausted. To make things more interesting, the rain came on – I've never pitched my tent as quick as I did that night! All the exertion filled me with endorphins, and I was over the moon to collect 2 more stamps for my digital passport!  
Check out my route here: Monday
Tuesday, Day 2 – South Uist to Benbecula (36km)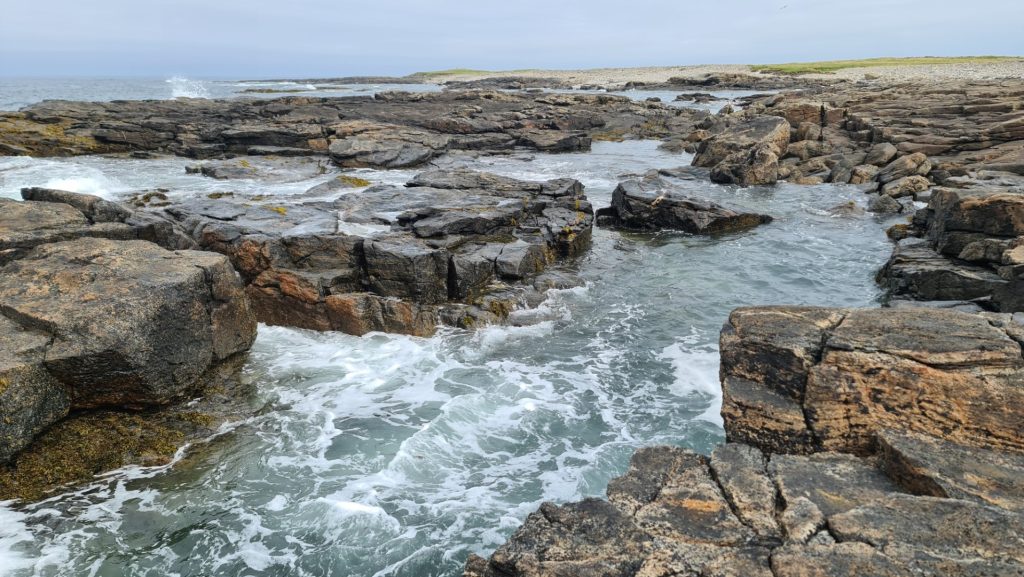 I woke up and explored the beach and did one of my favourite outdoor activities – jumping perilously between large formations of rocks shaped by the sea! I took two cameras and my phone camera to document the trip, so was filming my antics from a head mounted camera. I've yet to review the footage, by will enjoy reliving the moments again when I get a chance to edit it!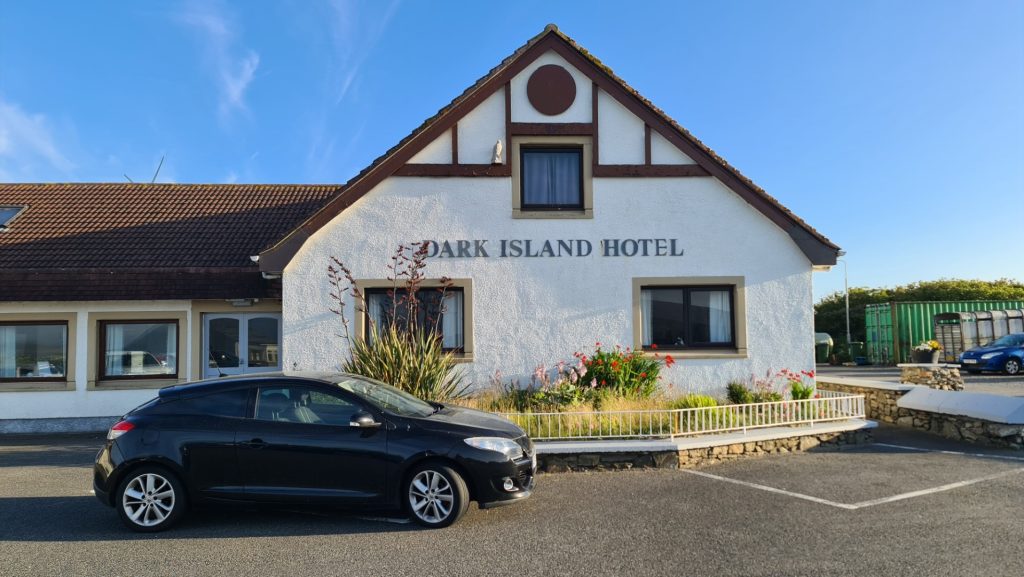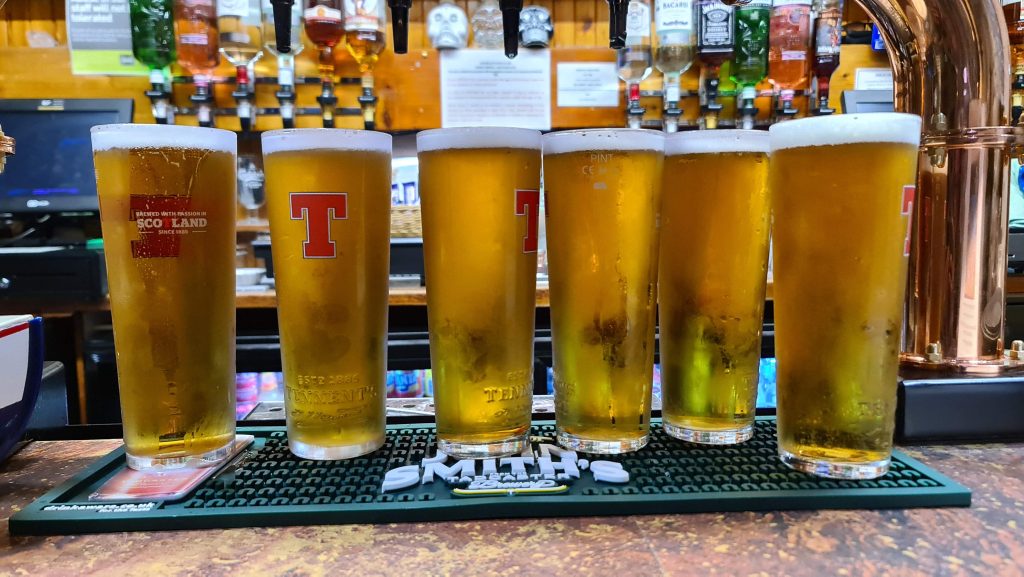 I knew I had another whole day to reach the ferry at Berneray, so decided to have a shorter day on the saddle and check out the night life in the Dark Island Hotel, and boy was I not disappointed! Earlier that day I visited the impressive "Our Lady of the Isles Statue", followed by delicious food at the Hebridean Jewellery store. I saw that there was a campsite just after the Dark Island Hotel, so set up camp and had a refreshing shower before hitting the restaurant for food. The pub was quiet at first and I thought I was in for a quiet night, but as the night drew on, more revellers arrived, and the drinks were flowing. Come closing time I headed back to my tent and returned heroically with my speaker – the party was to carry on for a few hours in a nearby field, where we responsibly danced on an outdoor wooden stage, made just for people like us who weren't ready for the night to stop on last orders! 
Check out my route here: Tuesday
Wednesday, Day 3 – Benbecula to Lewis (75km)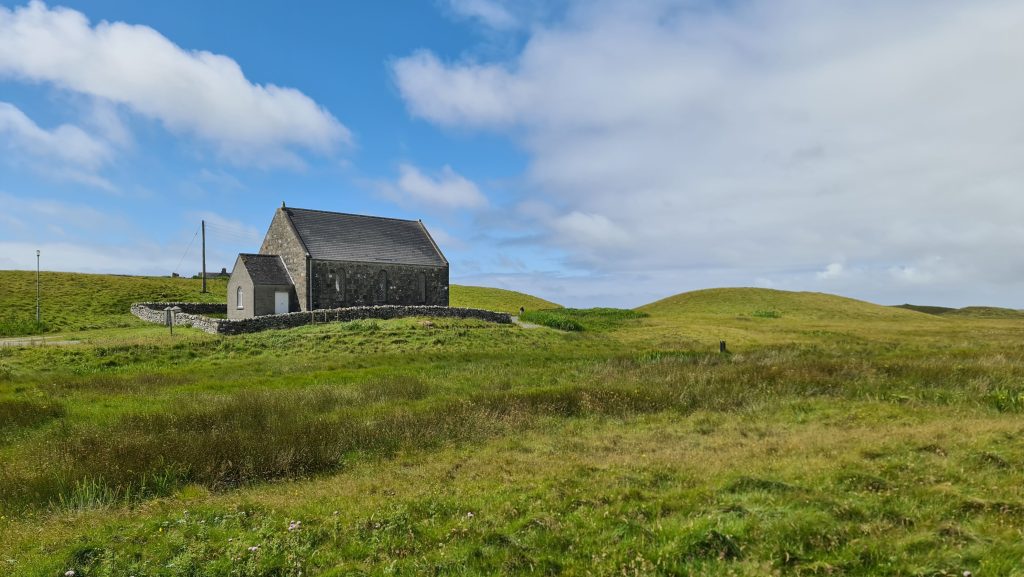 I'd lie if I said I wasn't slightly hungover from the night before, and slightly dreading a longer day on the road to reach the ferry. Failure to make it on time would be costly as I'd miss my pre-booked trip to St. Kilda. The thought of this was enough to spur me on, so after a noodles and a vegan burger and chips to fuel me up, I carried on north, managing to spot a majestic eagle soaring in the skies. I was happy to arrive with some time to spare at the ferry terminal, and breathed a huge sigh of relief as I boarded the last ferry of the day.
Upon arrival to Leverburgh I was sad to discover that the local restaurant had shut down, and the local shop unsurprisingly shut! Instead, I headed back to the ferry terminal waiting room and cooked up some more of my emergency supplies, whilst my electronic devices got treated a little charge. I camped by the waiting room, as my boat to St. Kilda left from a nearby pier. I could barely sleep for excitement thinking about tomorrows passage to St Kilda!
Check out my route here: Wednesday
Thursday, Day 4 – Boat trip to St Kilda then onwards to Tarbert, Harris (35km)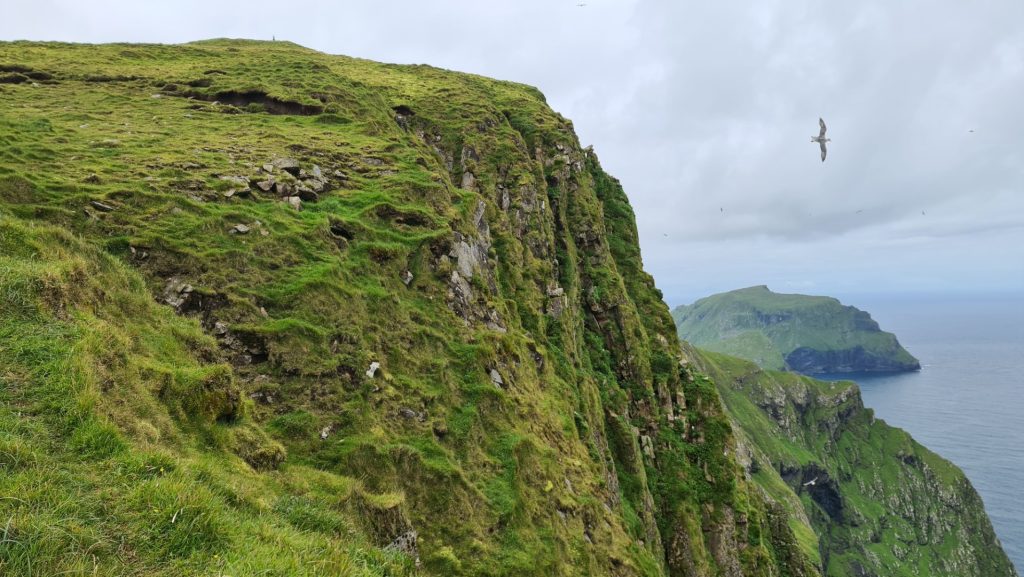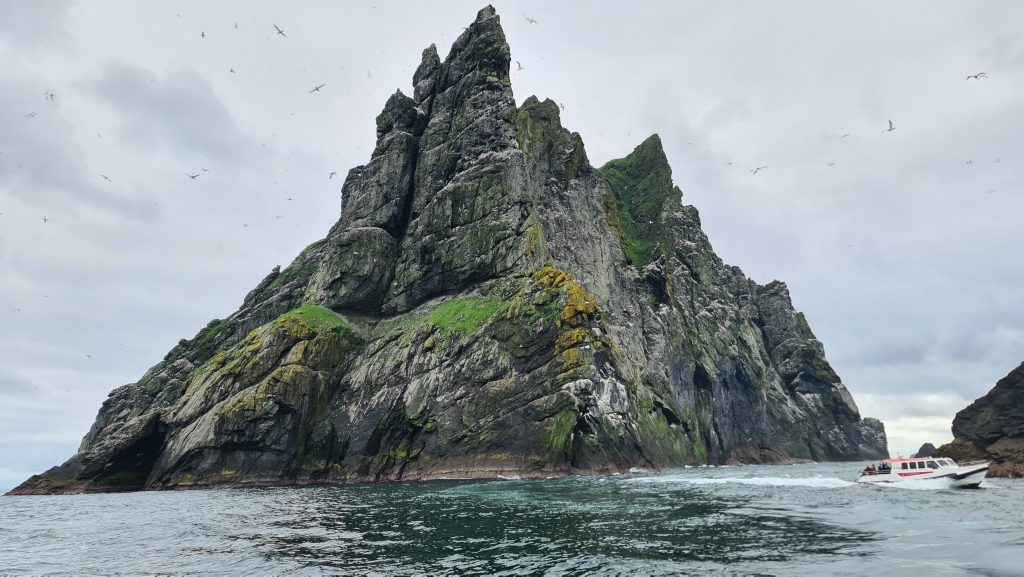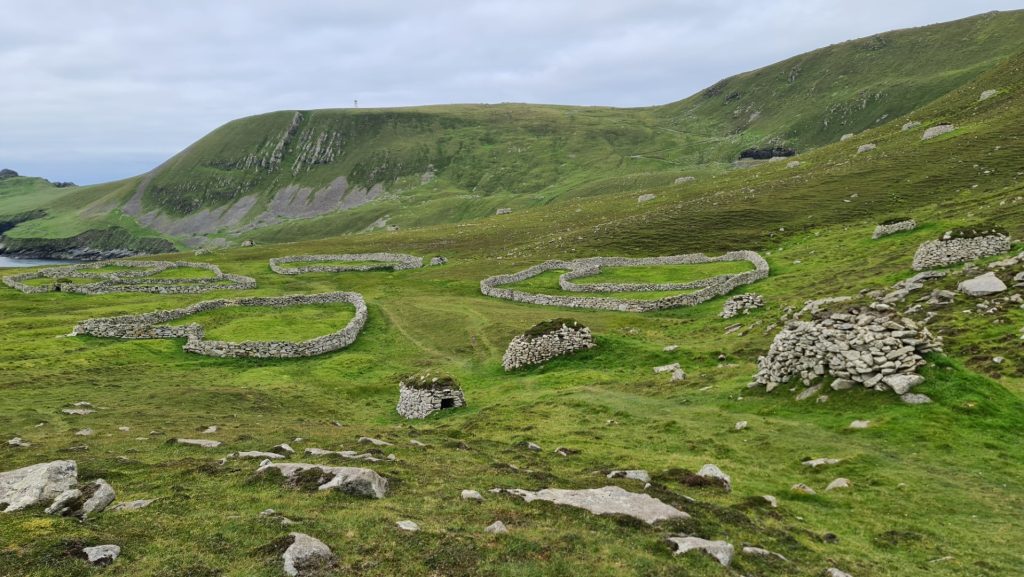 It was an early start, I woke around 6:30am and waited for the distinctive Butty Bus to open for breakfast – an old bus converted into a takeaway, and now the only source of food by the pier! I swiftly consumed my meal and washed it down with a strong coffee, before boarding the boat to St. Kilda. It was not long before we entered choppy waters, bobbing us up and down like we were riding a rickety roller coaster. I kept my eye on the horizon to stave off the sickness but for one poor gentleman it was too much, and he had a torrid time for the duration of the journey. 
St. Kilda is so remote; it took us over two hours on a fast boat to get there. I cannot imagine what the trip would have been like for the first people to discover the archipelago. Inhabited right up to 1930, it is now owned by the National Trust for Scotland. A knowledgeable guide gave us a brief history and recommended some walking routes. Enthused, I quickly clambered up the first hill to come across the highest sheer cliff drop in the UK. What better place to brew a freshly ground coffee! Further caffeinated, I continued with speed to the first peak, the whole time being divebombed by protective seabirds. I reassured them I wasn't after their chicks, but they don't speak human. We were trained to hold out arm up in the air as a decoy to avoid getting our heads clattered but it didn't fool them all, one flew so close I heard a massive swoosh and felt the displaced wind ruffle my hair with fury.
The boat trip back was a much smoother sailing, with the highlight being treated to a dram of single malt whisky, their secret to getting so many 5-star reviews.
Given how much further I had to go on the trip I cycled onwards 35km to Tarbert to find a late dinner, Sadly I arrived after 9pm and the hotel restaurant stopped serving food, so I opted for a Guinness, nuts and crisps supper! The hotelier told me of a good camping spot up the hill overlooking the town, so I set up camp, then returned to the bar to relax and suck more power into my thirsty electronic devices!
Walk: Thursday walk (8km) 
Cycle: Thursday cycle (35km) 
Friday, Day 6 – A big push up North! (100km)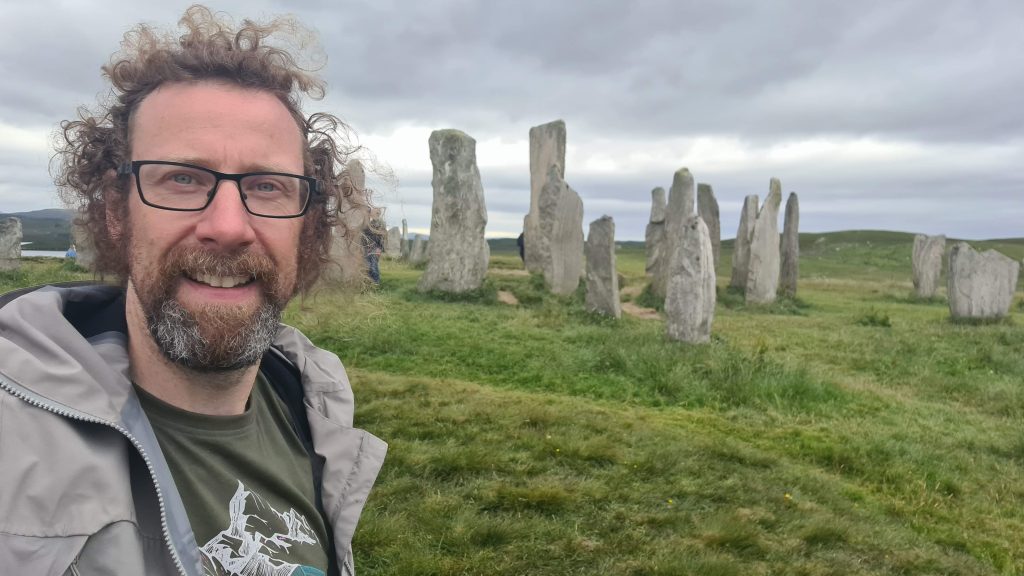 I wanted to get as far north as possible, as I wanted to make sure I could finish the trip and get to Stornoway the following day, to catch an early Sunday ferry to Ullapool. I ate a hearty breakfast in Tarbert and stocked up on supplies on the local shop before hitting the road. There was not much life for miles, and I had to tackle the biggest hills of the trip. It took a long time to get to the next food stop. I cried when it was closed but felt relieved when I learned there was a service station serving hot food.
With a warm tummy, I headed to a site I'd been looking forwards to seeing the whole trip – the Calanais Standing Stones, Scotland's answer to Stonehenge – but older! I was not disappointed, and enjoyed helping others capture memories by helping them with their photographs. It was a truly magical experience and one of the highlights of the trip.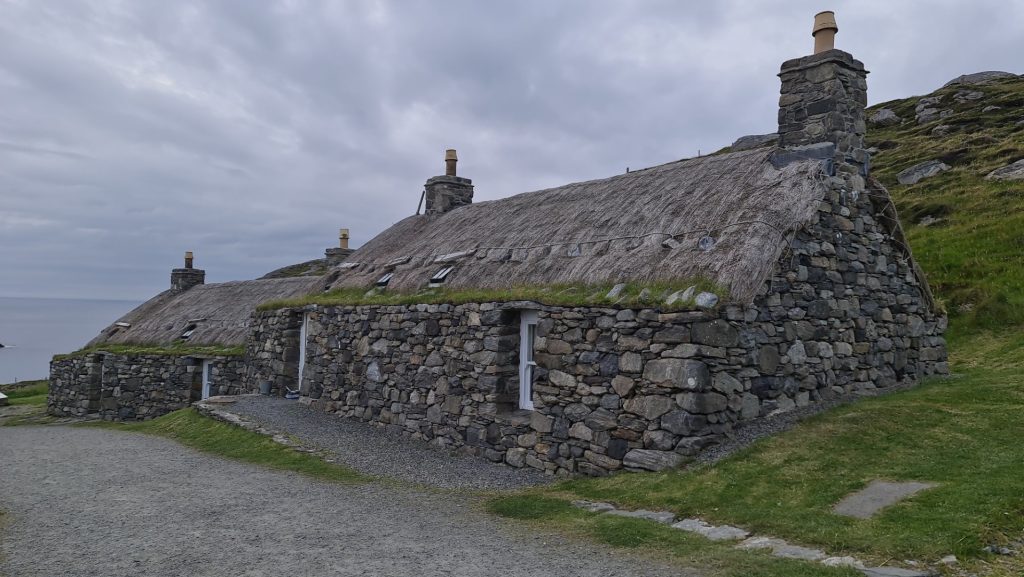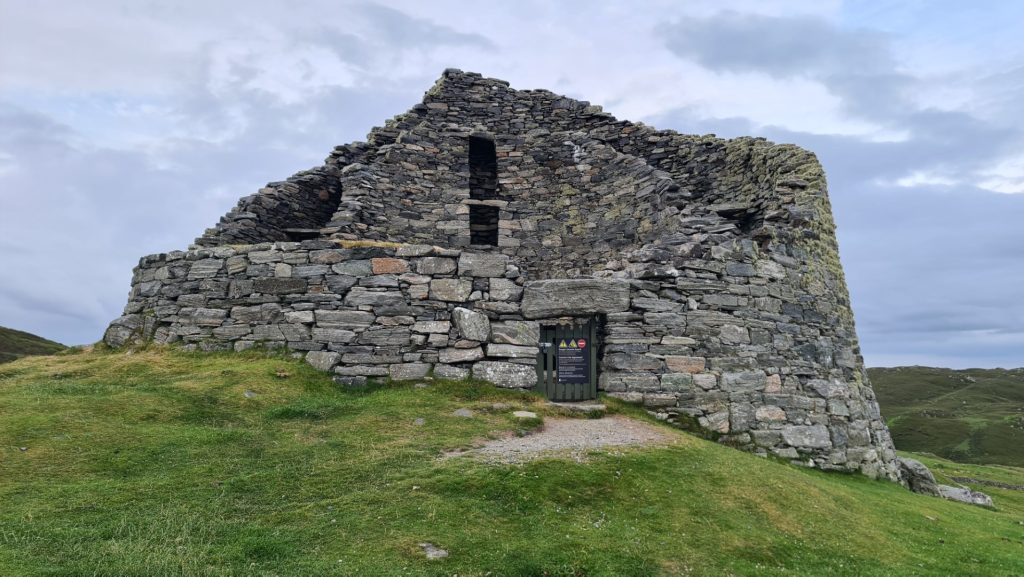 With no time to spare I continued north to another spectacle – the Dun Carloway Broch, such a well-preserved historic dwelling, dating way back to 200 BC. As if two incredible historic sights weren't enough, my next stop was the very picturesque Gearrannan Blackhouse Village, where I marvelled at the thatched roofs and felt teleported back in time. 
I now had the crazy idea of seeing if I could reach a milestone of 100km, and conveniently, as I neared the distance, I spotted an ideal camping spot by the beach. I pitched my tent at 11pm, then gorged on a cold buffet of service station bought delicacies, washed down with a well-deserved swig of red wine. It was a long but jam-packed day, and I felt very accomplished.
Check out my route: Friday
Saturday, Day 7 (27km + 44km)

This was the big day, the final push to the north west tip, the official end of the Outer Hebridean Way. My epic push the previous day made this a short trip, which was welcomed, as in true Scottish style I finally got some bad rain! The app also informed me that The Butt of Lewis Lighthouse is the windiest place in Britain, so I prepared myself for a battering! When I finally saw the lighthouse, I knew my mission was almost over, I cranked my pedals even harder with the finishing line in sight. I was happy to complete my adventure, but sad as I knew I'd be heading home the following day, and I felt there was so much more I could have explored.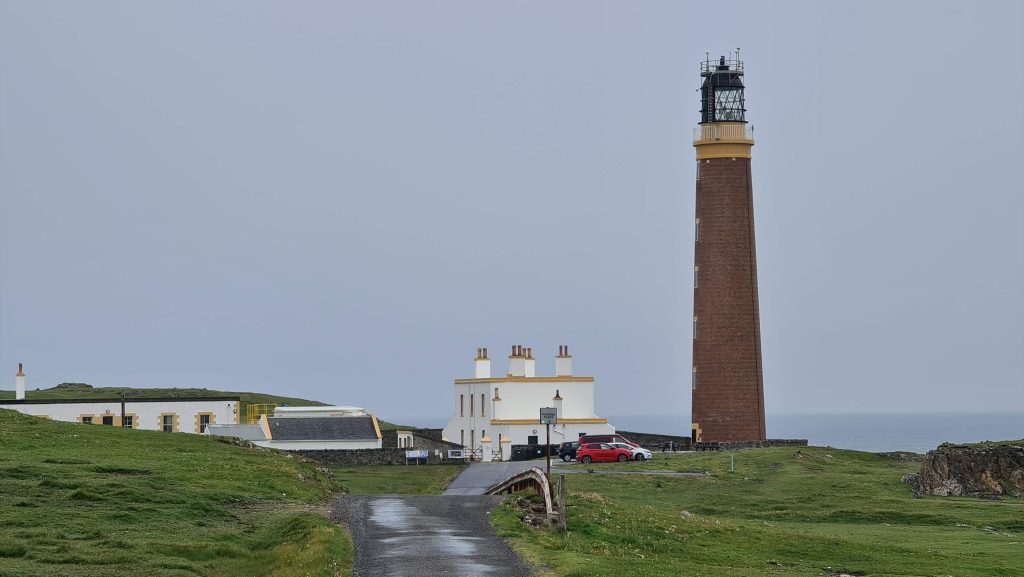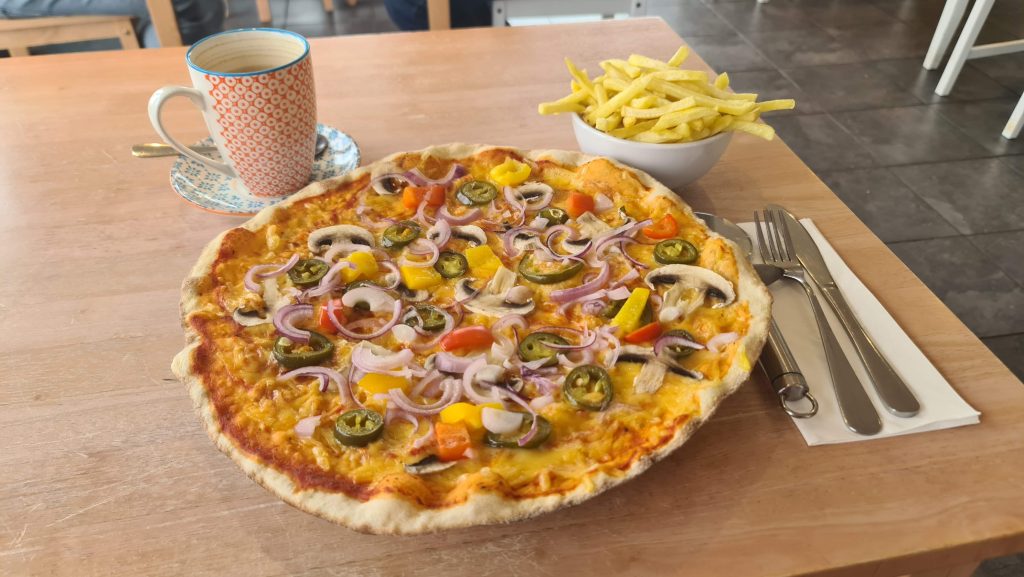 I treated myself to what tasted like the best pizza in the world in the Port of Ness, where two gentlemen that saw me arrive soaked at the lighthouse bought me a coffee as a kind gesture, which touched me, and made me reflect on how friendly everyone I'd encountered on the trip had been. A truly magical and unforgettable experience. 
I wasn't done yet though, I had to cycle another 44km in relentless rain to Stornoway in order to catch the ferry home the next day. Having camped for the last 7 days, I felt I deserved a treat, so I booked a bed in a shared dorm in a hostel. Rather than go out in the town, I took an Indian Takeaway and a bottle of Pinot Noir back to the hostel kitchen, and ate like a king, whilst recalling tales from my epic trip to anyone that would listen. Despite the ferry being early, I was too excited to sleep, so played music on my speaker whilst chatting to the friendly volunteers.
Check out my route: Saturday
Sunday, Day 8 – Homeward Bound! Stornaway to Inverness, then Edinburgh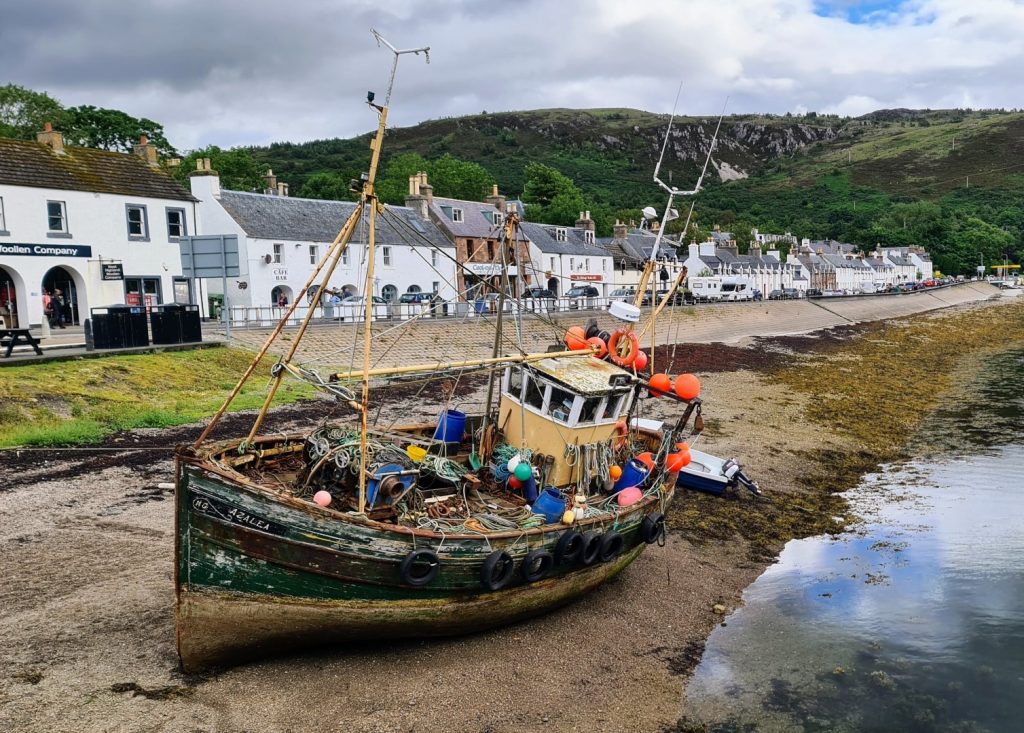 I sprung out of bed early so as not to miss the ferry, as my mum arranged to pick me up in Ullapool. She drove her car, which was the only non-public transport segment of the trip. I hadn't realised I could take my bike in the hold of the bus so noted that for next time. We had a bit of time together before I took my bike on the train back to Edinburgh, so I showed her lots of photos, and she helped me decide which ones would be best to add to my Travel Journal in the app. 
Conclusion
What made the trip extra special was collecting passport stamps as I progressed on my journey. They filled me with so much joy and I looked forwards to unveiling new stamps each day to see the stamp and read the story behind it. It gave my holiday a mission, I even took a detour to collect an island stamp that was not on the official route, despite chasing a ferry, to fill up my passport! Sadly one island was just a tad too far away and remains elusive, a great excuse to repeat the ride and investigate other parts of the islands! I've already favourited a load of experiences that were not possible to visit on this trip.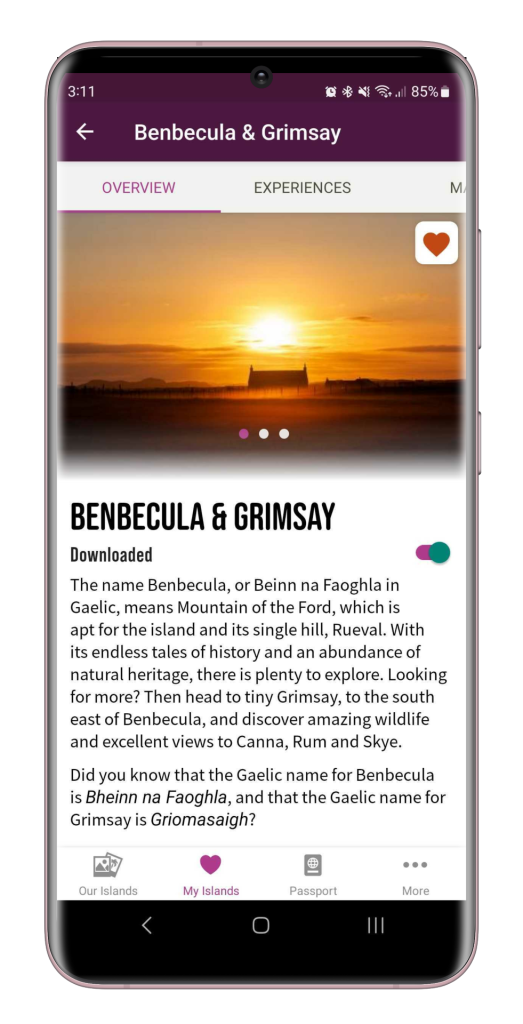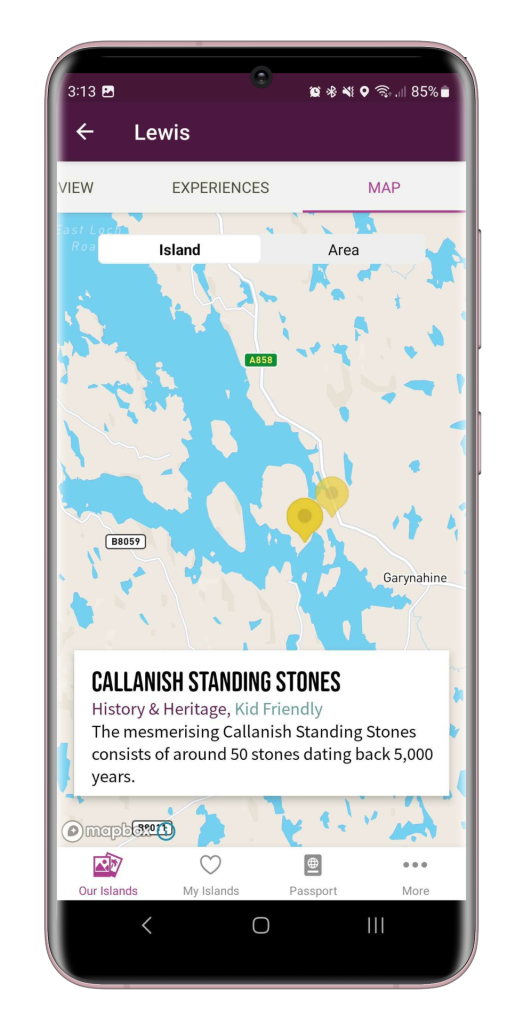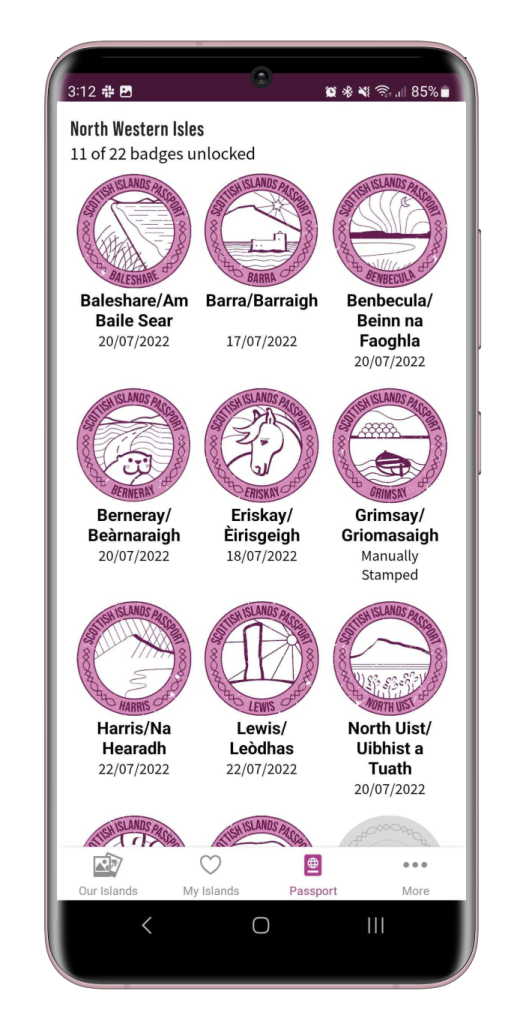 The app made me feel like I had a local guide in my pocket and made me feel more connected to the islands I visited.
My top tip would be to always buy food for the next 3 upcoming meals whenever you pass a shop, as in remote areas many things close early, if they have facilities at all. Also prepare yourself for all weathers and emergencies – bike tools, a first aid kit, emergency foil bivvy bag, food and water purification tablets. I even took a satellite GPS tracker that lets me send an SOS where there's no phone signal, which thankfully wasn't required.
Total distance cycled: 405km (252 miles)